Sea Isle City Mascot... Sara the Turtle!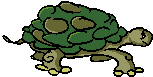 Sara the Turtle Festival is fun as well as educational. Activities planned include an exhibit of shells, Diaper Derby, kids' races, face painting and a live turtle exhibit. The Wetlands Institute of Stone Harbor, the Mammal Stranding Center and Turtle World will have exhibits. Free turtle coloring books and stickers are available until supplies run out. Turtle T-shirts are on sale by the Sea Isle City Environmental Commission and the Wetlands Institute of Stone Harbor.
It is all part of Sea Isle city's campaign to increase public awareness of the plight of the endangered diamondback terrapin. Every year, during the last two weeks of June and the first two weeks of July, the female terrapins leave the safety of the saltwater marshes to make their way to higher ground to lay their eggs. Thousands of terrapins are slaughtered on the roadways during this annual migration.
Sea Isle City launched a massive campaign to save the endangered Diamondback Terrapin from extinction. "Turtle X-ing" signs have been placed in areas to warn drivers of the approaching nesting sites. This is just one of the many programs which typify this friendly, family resort.
Sea Isle city's Annual Sara the Turtle Festival is held in the hope to get out the message that Sea Isle city is committed to helping protect the diamondback terrapin.